Across the country, communities face mounting threats to their water security and race is the strongest predictor of water access. Increased climate change-related flooding, sea-level rise, and drought threaten people's homes, lives, and the ecosystems they rely upon. Decades of structural racism, infrastructure underinvestment, and unjust policies have rendered low income, rural, and communities of color at the forefront of these issues. The Covid-19 pandemic further exacerbated these intersectional challenges, calling particular attention to the need for water assistance, water affordability, infrastructure upgrades, and climate action. 
Since 2018, the WECR Caucus has strengthened connections between frontline communities, allies, and decision-makers to address these challenges through national coordination, in-person convenings, priority workgroups, and free trainings and resources. Find out more about how we approach this work and see below for details on our specific efforts.
Where We Meet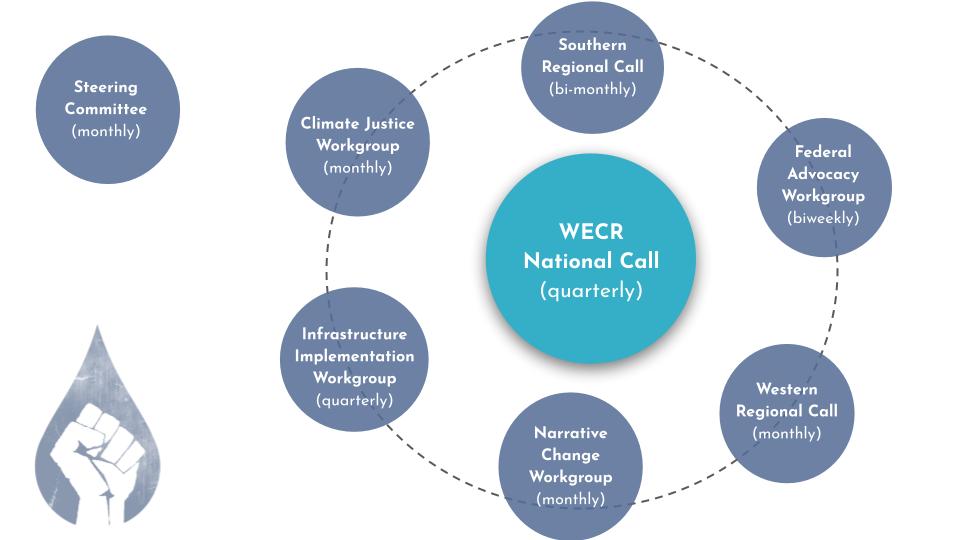 National Calls
The WECR Caucus holds quarterly national calls for core members, allies, and supporters. Calls are organized by PolicyLink, with guidance from the WECR Steering Committee, to provide updates, share priorities, and work together to advance our issues. National calls offer opportunities for emerging leaders to design and lead different sections of the agenda, flexing their speaking, presentation, and facilitation skills. Members also learn from one another's work, sharing information and resources.
In-Person Convenings
We prioritize space for reconnecting, deepening relationships, celebrating our water journeys, and building shared momentum through in-person convenings. Convenings take place in a different location each year, providing connection to on-the-ground movements through local co-hosts, site visits, panels, and workshops. Read more:
Workgroups
Caucus members work together to develop knowledge, build capacity, and strategize through workgroups. Workgroups meet regularly to dig deeper on particular topics or regional policy priorities. Workgroups prioritize space for Core Members, centering the priorities and solutions of frontline communities across the country. Allies may join relevant working groups to support core member priorities. Current workgroups include:
Climate Justice (monthly) — Develops a collective analysis of climate justice with a goal to inform federal priorities related to intersection of water, climate, and equity. Specifically, this group provides space for WECR members to learn from each other about climate-related issues at the local, regional, and national level. Members share challenges, best practices, and lessons learned in climate solutions.

Federal Advocacy (bi-weekly) — Currently focuses on advocating for water affordability and the establishment of a permanent low-income water assistance program. Workgroup members build relationships with decision-makers, provide recommendations on legislation and regulation, uplift stories and solutions from the frontlines, and host Congressional Briefings.

Infrastructure Implementation (quarterly) — Primarily focuses on increasing understanding of the State Revolving Funds (SRFs) and advocating for more equitable implementation of the Bipartisan Infrastructure Law. 

Narrative Change (monthly) — Identifies and builds opportunities for narrative alignment to decommodify water and elevate water's full value, including its cultural and spiritual importance. The group works to reconnect our holistic relationship with water and integrate creative strategies to enhance and advance Caucus priorities.

Southern Regional (quarterly) — Collectively establishes principles, goals, policy initiatives, and organizational support for Southern-based local and regional water justice focused organizations that advocate for and work with communities of color, low-income communities, and frontline communities in the South.

Western Regional (monthly) — Fosters a space for water and climate leaders in the West to connect and lift up local approaches and solutions. The Workgroup is collectively developing a regional federal policy agenda related to  impacts of climate change on water supply, water affordability,  oppose false solutions (e.g., desalination, dams, etc.), and pursue equitable implementation of federal policies that affect environmental justice communities in the West.