Caucus policy priorities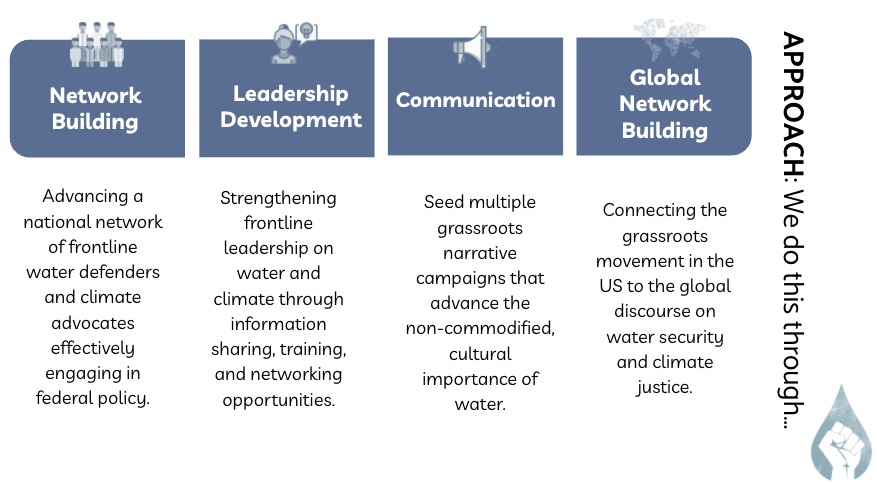 Through peer learning, tool and knowledge development, and shared local, state, tribal, and federal advocacy, the Water Equity and Climate Resilience Caucus fight for policies under three main categories:
Securing safe and affordable drinking water and equitable infrastructure systems for all
Safe and affordable drinking water, sanitation, and stormwater management is provided for the 100 million economically vulnerable residents of US and Indigenous communities. 
 
Targeting education, workforce development, and business opportunities in climate-resilient water systems
Educational, job, and business opportunities are targeted to low-income people and people of color in designing, building, operating, and maintaining sustainable water infrastructure systems.
 
Supporting communities impacted by rising water, flooding, and drought  
Climate-vulnerable communities, low-income and communities of color, and those proximate to and reliant on threatened waters — meaningfully participate in water and climate resilience planning and implementation. Communities of color and low-income communities can access disaster resources that prioritize their recovery and their climate security.
To learn more about our policy priorities, please check out our summaries here.
Wins
In 2020-2021 the Caucus submitted eight major memos, reports, letters of support, and sign-on letters to Congress; held one Congressional briefing; four briefings with the Environment and Public Works committee; held two National Calls for Water; met with EPA transition team to submit a dossier of 37 names of environmental justice (EJ) leaders of color who could serve in the Biden Administration (many of whom have been selected), with Radhika Fox, our top priority successfully selected to head the office of water at EPA.
Covid Relief and the New Administration
In 2021 we worked with the Environmental Justice Caucus of the Senate and the Environmental Justice Taskforce of the House to introduce water equity and climate resilience provisions into the reauthorization of the Water Resources Development Act which is the major way that federal investments in clean water and drinking water get distributed to the states and localities. Senator Schumer's office moved these provisions into the 2020 Economic Justice Act, repurposing unspent CARES Act funds, dedicating $38 billion to EJ communities facing the greatest water threats and Covid impacts. New investments in water infrastructure, stormwater infrastructure, climate resilience grants, decentralized water systems for tribal communities without safe water services, and workforce and small business opportunities for BIPOC all came into legal policy language. These provisions have since moved into the first water infrastructure bill of the 'Build Back Better' priorities of the Biden-Harris Administration. 
Emergency Water is a Human Right
In the meantime, we worked with Representative Tlaib who introduced the Emergency Water is a Human Right bill to issue a mandate to reconnect water service to people who had been shut off due to nonpayment of water bills. $638 million was appropriated for this in the December 2020 Omnibus bill, and another $500M in the American Rescue Plan that passed in March 2021, putting a total of $1.138 billion at Health and Human Services (HHS) to provide assistance to low-income customers who have water debt or shutoffs — marking the first-ever national water assistance program.
Low-Income Affordability/ Assistance Program
The Caucus then turned to include a long-term, water affordability/assistance program to address the mounting evidence that $8 billion in water debt had accrued over the last year and as many as a quarter of households in the US had unaffordable water. The bill markup then included an amendment for an affordability program, and the entire bill passed out of committee with unanimous bipartisan support. We expect this to be the first major infrastructure bill of the Biden Administration, and we plan to work with our colleagues at the EPA Office of Water to implement it.
National Water Infrastructure
In early July of 2021, the INVEST in America Act (H.R. 3684) passed through the House which included amendments the WECR Caucus advanced including drinking water and clean water priorities, an intentional focus on environmental justice communities, and workforce, procurement, and climate resilience provisions. The amendments we advocated for strengthen the focus on ensuring that households and communities most affected by water shut-offs, toxic water threats, and workforce opportunities in the water sector are provided for. We also advanced the nation's first and highly needed federal grant program for low-income water assistance. View our letter.
Some highlights from our advocacy:
$35 billion for water infrastructure in the most impacted communities on the Senate side / $168 billion on the House side.
One percent for workforce and procurement ecosystems to bring workers and firms from impacted communities into water sector jobs and contracts (could total $400 million per year over a time period of five years).
Climate resilience planning grants program to address environmental justice communities.
The nation's first-ever low-income water assistance program for households facing shutoffs and unaffordable water.
A data collection initiative at the United States Environmental Protection Agency (USEPA) with $150 million for documenting water shutoffs, household water debt, and home tax liens across the nation.
Allied Regional / State Coalitions
Although the Caucus engages primarily in federal advocacy together, there are a few regional formations across the country where Caucus members leverage local networks to advance water equity and climate resilience goals. These formations are critically important to mobilizing local, statewide, and regional partners in campaigns and initiatives that strengthen and influence the broader efforts of the Caucus.