WECR Co-chair report-out from COP26
By Kendall Dix (GCCLP) and Colette Pichon Battle (GCCLP)
Connecting the water and climate crises is critical, which is why Gulf Coast Center for Law & Policy (GCCLP) as co-chair of the Water Equity and Climate Resilience Caucus attended the 26th Conference of Parties (COP26) to the UN Framework Convention on Climate Change (UNFCCC).  Water disasters driven by climate change such as flooding, drought, and sea level rise are existential threats to the human right to water. But the United States already faces a water crisis from aging infrastructure, federal disinvestment, and a racialized system that deprives poor people of clean and affordable water.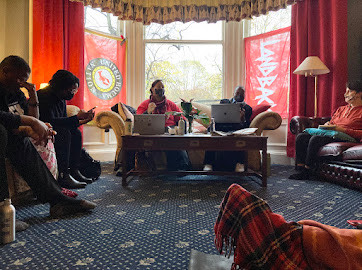 As we look back on COP26, we are disappointed in the failure of our US government and other world leaders to rise to the urgency of the moment and in their lack of courage to address the root causes of this crisis. This year's conference served as a forum for polluters and rich countries to promote false solutions such as blue hydrogen, carbon capture, and biofuels derived from deforestation, and escape accountability for their role in driving climate catastrophe by refusing to advance funding mechanisms to pay for Loss & Damage already being experienced across the globe.
Members of Gulf South for a Green New Deal and members of Red, Black & Green New Deal were chosen as delegates of the GCCLP Frontline COP26 delegation to Glasgow, Scotland. Our COP26 delegation understood the reality going into the conference and saw our attendance as an opportunity to deliver messages from the frontlines of climate change in the United States and to build solidarity with the Global South. Our national, multiracial delegation left Glasgow inspired and energized by new connections to other grassroots leaders around the world. Practicing radical self-governance, we demonstrated on a global stage that we have the solutions to create transformative change together. 
Just some of the highlights of GCCLP's time in Glasgow are:
GCCLP co-led a Climate Movement Assembly on the need for global climate reparations with Tipping Point UK at the People's Summit.
Gulf South for a Green New Deal and Red Black and Green New Deal delegates spoke to a crowd of an estimated 100,000 people on the global day of climate action.
GCCLP hosted the first ever Black Climate Leaders Social attended by 150 climate leaders from more than 34 countries from across the Black diaspora. 
GCCLP joined the NDN Collective for a discussion about building power through Black and Indigenous solidarity. 
GCCLP delivered the National Black Climate Mandate's foreign policy and international climate justice demands to Special Climate Change Envoy John Kerry and the Biden Administration and received a shout-out for our work from former President Barack Obama during his global speech on climate to 
While we are proud of what we and global movements for climate justice achieved and built these past two weeks in Glasgow, we cannot stay silent on the many injustices of COP26.  This was a long-awaited meeting -- delayed a full year because of the COVID-19 pandemic. Though the rhetoric and lip service on responding to climate change by world leaders in the first few days of the summit was lofty, the results were far short of the bold, transformative change needed in this moment.  This comes as no surprise as it was also the most exclusionary COP to date, and almost it seems by design. 
More so than usual, climate activists from the Global South faced racist immigration barriers and difficulties securing visas, all made worse by the COVID pandemic and inequities in vaccine distribution from rich countries to the Global South - rightfully called vaccine apartheid by advocacy organizations. Two members of our krewe from the Gambia found out they would be denied the right to travel only when they arrived at the airport for their flights to the UK. Those Global South activists who managed through sheer grit and effort to arrive in Glasgow faced massive surveillance, a heavy police presence in the streets, and often found themselves locked out of the negotiating halls themselves in the name of COVID protections. 
And while activists' entry was blocked - whether at the border crossing or by building security - representatives of the fossil fuel industry filled the halls. More than 500 representatives of the fossil fuel industry attended, making the industry the single largest delegation at the conference. Their influence on the negotiations and the emerging narratives was obvious with so much talk about blue hydrogen and carbon capture, despite studies showing that blue hydrogen is worse than coal. 
Locally, the conference created significant disruptions to the daily lives of Glasgow residents. Public buses were diverted away from the conference while chauffeured private cars were allowed to drive straight in, creating a perfect metaphor for the conference's exclusivity and lack of commitment to climate solutions that benefit poor and working people.
The inequities of how the COP was held are reflected in what it produced. While some nations have made new promises to reduce emissions, the world is still on track for significant warming. We are already living with the realities of climate catastrophe with our current 1.1°C of planetary warming. Current voluntary pledges—if they're fully enacted—would allow for 2.4°C of warming. Anything more than the 1.5 from the Paris Climate Agreement amounts to mass murder of frontline communities. Other major shortcomings of the COP26 agreement:
 
Loss and Damage financing: Despite strong demands from advocacy groups such as GCCLP, only one territory (Scotland) has given money to help Global South nations adapt to climate change. And it was a measly $3 million. Loss and Damage financing will be high on the agenda at COP27 in Egypt next year.
Allowing offsets: Article 6 of the Paris climate agreement sets out the rules for how countries count their greenhouse gas emissions, but they contain massive loopholes that allow for false solutions like carbon offsets. Nothing was done to fix this problem. 
Reliance on the private sector: A much-celebrated announcement that private banks will pour $130 trillion into green technology shows that governments are still relying on the people that got us into this mess to get us out of it. Because banks tend to favor large industrial projects and corporations, expect huge money to flow into false solutions like blue hydrogen and carbon capture. 
Supporting industrial agriculture: The United States and the Gates Foundation announced a new effort to double down on industrial farming. Using the misleading phrase "climate-smart agriculture," the plan is to increase small farmers' reliance on technology and patented seeds. In other words, the Global North wants to further expand its failed agricultural system across the Global South.
Another disturbing trend coming out of COP was rich countries, including the U.S., wagging their fingers at developing economies like India and China who resisted a sole focus on coal for a fossil fuel phaseout in the final agreement. As residents of the Gulf South, we were keenly aware that the Biden administration had already broken a campaign promise by opening up the largest oil and gas lease sale in the nation's history on 80 million acres in the Gulf of Mexico right after the conference ended. 
The United States focusing on coal is a backhanded way for rich countries to deflect attention from their responsibility for the climate crisis and to maintain poorer nations in the Global South as customers for their oil and gas exports. If the United States were serious about climate change, it would focus on eliminating extraction at home as quickly as possible. 
Despite these failures of moral leadership in the final hours of the COP, we remind ourselves of all that GCCLP accomplished in delivering key messages from the frontlines of climate change and building solidarity with other climate advocates from across the globe.  People power will triumph in the end and we will win justice and water equity for our communities, from the Gulf South to the Global South. We leave inspired by and connected to global movements that are demanding radical and transformative change and with a song for "Climate Reparations" in our hearts.